Back-to-School Safety Tips
Back-to-School Safety Tips
Summer is winding down and some schools in Ohio are already in session. As schedules change, the back-to-school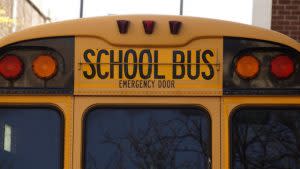 season can be a busy time, especially on the road. But it's important to remember some key tips to help keep everyone safe during the school year.
School Bus Safety
During your morning commute, you may see a big yellow vehicle on the road that you haven't seen in a while – the school bus.
Here are some tips for drivers who share the roads with school buses, as well as some easy lessons to teach your kids about bus stop safety from our member State Farm.
Driving near buses
Follow these tips to help protect the children when you drive.
Keep an especially close eye on students as they're getting on and off the bus—stragglers might run! The most dangerous part of the trip, for kids, is getting on and off the bus.
Be alert and SLOW DOWN if you're near a bus. There's never a good enough reason to speed, and it's downright careless when there are children nearby.
Do not pass a school bus that is stopped to load or unload students. All states have laws that tell you under what circumstances you can and cannot pass a stopped school bus. Most buses actually have stop signs that display when children are getting on and off the bus.
Know and understand traffic laws and speed limits near a school bus and schools. Oftentimes, the laws change during school hours.
Teach your children
Help take the danger out of the trip to and from school by instructing children about school bus stop safety.
The National Safety Council (NSC) recommends children should:
Wait away from the roadway and board only when the bus has come to a complete stop.
When crossing in front of the bus, walk at least 10 steps away from the bus so the driver can see them.
Never walk behind the bus. Drivers might lose sight of kids in their blind spots.
Visit National Safety Council for more school bus safety information.
Bicycle Safety
Riding a bicycle can be a quick and fun way for students to get to school, but it can also be dangerous. Review the below tips from our member, Central Insurance, to help students travel to school safety.
Wear safety gear: Always wear a helmet and consider wearing bright colored clothing that is easily visible to others on the road.
Stay alert: Do not ride distracted. Don't use your smartphone or wear headphones while riding. Pay attention to the road and to your surroundings. Watch out for bumps, potholes, wet pavement and other dangerous situations.
Obey traffic laws: The same traffic rules for cars apply to bicycles. Obey all traffic signs and lights. Also, travel in the same direction as traffic and make sure your position on the road allows drivers and others to see you.
Wear safety gear: Always wear a helmet and consider wearing bright colored clothing that is easily visible to others on the road.
In some cities, such as Grandview Heights, wearing a helmet is the law. Police officers have the authority to write a ticket if they spot anyone under the age of 18 not wearing an approved helmet when riding a bicycle, scooter, skateboard, roller skates or in-line skates.
Cross Walk Safety
Cross walk safety is always an important topic, but walkers and drivers should be extra cautious due to a recent study from the Insurance Institute for Highway Safety (IIHS). The study found that pedestrian crashes have become both deadlier and more frequent. Pedestrian deaths have jumped 46 percent since reaching their lowest point in 2009. The researchers found that not only did pedestrian crashes increase, they also became deadlier. Deaths per 100 crash involvements increased 29 percent from 2010, when they reached their lowest point, to 2015.
Our member, Allstate, provides some tips for pedestrians.
Obey all traffic signs and signals, and walk across the road, do not run.
Use designated crosswalks, such as at traffic lights or marked school crossing spots.
Look left-right-left before crossing, and to continue doing so while crossing.
If walking in the dark — such as in early morning or evening hours — wearing reflective clothing or carrying a flashlight is important for visibility.
No matter how you get to your destination, staying mindful is a must. Keep these tips in mind and put them to practice to help keep you and your family safe this school year.