Distracted Driving Legislation Makes Its Way Through Ohio Senate, Continues to Garner Broad Support
Distracted Driving Legislation Makes Its Way Through Ohio Senate, Continues to Garner Broad Support
State Leaders Turn Their Focus to the Plight of Distracted Driving
In response to an alarming increase in roadway collisions and injuries, in 2018 the Ohio Departments of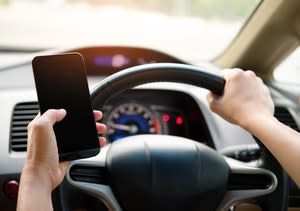 Transportation and Public Safety convened Ohio highway safety leaders, elected officials, and the Ohio Insurance Institute to study how to improve Ohioans' road safety. The goal was to give the recommendations to the next Governor.
Their conclusion after a year of research and discussion? Smartphones' incessant distractions of images, music and texts were steadily eroding Ohio drivers' focus on the road ahead. In fact, research shows that texting while driving increases the odds of a crash up to 8 times, and driving and talking on smartphones makes a crash four times as likely.
The task force also learned that unsafe driving behaviors like distracted driving pose a considerable risk to pedestrians. The rise in pedestrian fatalities is the highest its been in more than 30 years.
Upon receiving these recommendations, Governor Mike DeWine pledged his support for a new "Hands-Free Ohio" plan embodied by S.B. 285, introduced by Senator Sean O'Brien (D-Bazetta) and Senator Stephanie Kunze (R- Hilliard) on February 13, 2020.
For more information, visit Governor DeWine's website.
Distracted Driving Legislation (SB 285) Introduced in the Ohio Senate
Recognizing that these distractions are deadly yet preventable, the Ohio Senate last week held its first hearing on the Hands-Free Ohio bill (Senate Bill 285). The Hands-Free Ohio bill is bipartisan legislation that will reduce distracted driving in Ohio and protect Ohio motorists and passengers from unnecessary collisions, injuries, and fatalities.
The bill, introduced in the Ohio Senate this February by Sen. Sean O'Brien (D-Bazetta) and Sen. Stephanie Kunze (R-Hilliard), has already been endorsed by Governor Mike DeWine and other highway safety advocates, including the Ohio Insurance Institute.
The bill's introduction comes as the Ohio Department of Public Safety reports last year as the second deadliest year of the past decade for distracted driving with at least 1,157 people killed in traffic crashes – numbers that could be even higher because crashes can sometimes be underreported.
The hearing marks an essential first step to save lives in Ohio.
Outpouring of Support for Senate Bill 285
"The use of wireless devices while driving has become so common that many drivers don't stop to consider the deadly consequences," said Governor DeWine. "Although Ohio's current laws are well-intended, they simply haven't gone far enough to change the culture around using technology behind the wheel. By strengthening Ohio's laws, we believe we can change behaviors, prevent crashes, and save lives."


"We have no doubt that fatal crashes in Ohio have increased due to smartphone use," said Sen. Sean J. O'Brien. "Other states that have enacted hands-free laws have seen significant reductions in traffic fatalities, and I'm confident that our Hands-Free Ohio bill will lead to more responsible driving all over the state."


"We must make the use of wireless devices behind the wheel as unacceptable as drinking and driving is today, and we believe that tougher consequences will be a strong deterrent," said Sen. Stephanie Kunze. "The purpose of this bill is not to make more traffic stops or put more people in jail, it's to get drivers to put down their phones so that people stop getting hurt."


"I have served with the Patrol for over 28 years and have personally witnessed on countless occasions the detrimental effects of distracted driving," said Colonel Richard Fambro of the State Highway Patrol. "We know every time someone takes their focus off the road – even for a few seconds – they put their lives and the lives of others in danger. Law enforcement officers see the deadly consequences of distracted driving violations daily. Often, these distractions involve the use of an electronic device."


"Ohio's number of traffic fatalities has risen in five of the last six years," said Andrew Kirkner, Regional Vice President of the National Association of Mutual Insurance Companies. "SB 285 would help to stem this tide and provide enhanced protections to Ohio's citizens by creating a primary "hands free" law. SB 285 would also bring Ohio in line with many other states that have instituted hands free laws and seen drastic decreases in their traffic fatality rates. In short, SB 285 is highly likely to save lives and do so in the least restrictive way possible."


"If passed, this legislation could help reduce crashes, save lives, and make Ohio roads safer," said Adam Shores with the American Property and Casualty Insurance Association. "Senate Bill SB 285 will stem the dangerous tide of distracted driving by modernizing Ohio's texting law and requiring "hands-free" use – prohibiting drivers from having physical contact with their phones or other wireless devices while driving or stopped in a traffic lane."