OII Awards Leipsic Teacher 2020 Insurance Educator of the Year
OII Awards Leipsic Teacher 2020 Insurance Educator of the Year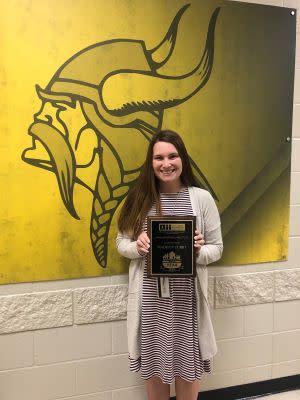 The Ohio Insurance Institute awarded Madisyn Curry the 2020 Insurance Educator of the Year at their recent annual meeting last week held virtually.

Curry, a Leipsic native, is a family and consumer science teacher at Leipsic Local Schools. She was selected for the award for creating a Next Generation of Personal Finance curriculum that prepares students for the range of financial decisions they will encounter as adults. Her financial literacy course teaches about the different insurance products available in Ohio, how insurance works, and potential careers in insurance. The course teaches students how to make informed choices about their financial future.

"Teaching financial literacy is critical for Ohio's economic future," said Dean Fadel, President of the Ohio Insurance Institute. "Madisyn has demonstrated an early on creative excellence in this field and sets an example for other educators. Insurance plays an important role in Ohio's economy, and educators like Madisyn are making a difference, helping our children find good jobs in a strong, stable industry."

According to OhioMeansJobs.com, there are over 167,000 open insurance-related jobs available in Ohio. The industry will need to hire an additional 29,000 people by 2024 to make up for retirements.

Curry will receive an engraved recognition plaque, a $1,000 check, and an Ohio Insurance Institute grant of $500 to take an insurance-related workshop. The Institute will also make a $500 donation to Leipsic Local Schools.

You can learn more about the Insurance Educator of the Year by clicking here. Applications for the 2021 Insurance Educator of the Year are now open.